Wednesday, Oct 13, 2021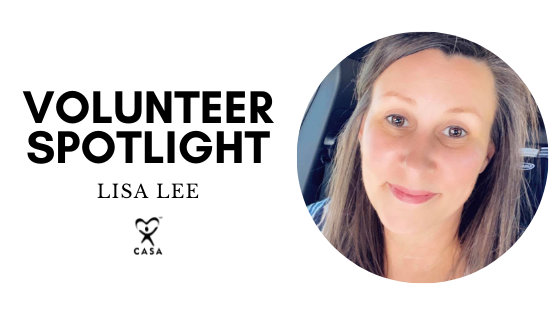 Lisa Lee has spent a large portion of her life in the service of children and families so when the opportunity arose to become a CASA volunteer, she didn't hesitate. Lisa has served as a CASA volunteer advocate for just over a year. She has advocated on two cases, speaking up for the best interests of five children, and has had a tremendous impact in every one of their lives. We had a chance to sit down with Lisa to ask her a few questions about her experiences as a CASA volunteer. Here is what she had to say:
Tell us about yourself.
I am a retired school librarian. I have two grown sons, a beautiful daughter-in-law, and four amazing grandchildren. I love to travel, read, and sew.
How did you first hear about and get involved with CASA?
A friend had started training to become a CASA volunteer and I was curious. After researching and talking with the CASA staff members I decided to apply and join my friend in training.
What is it like to be a CASA volunteer?
I have always loved volunteering. It is so rewarding to help give the children a voice and make a difference.
What would you tell someone considering becoming a CASA volunteer?
Just do it! I love helping the children and seeing the smiles on their faces.
What has surprised you the most about volunteering with CASA?
How attached I got to my cases. My first case was four girls and when they moved to a different state with their aunt, they took my heart with them. But I love knowing that they are in a good place with a family who loves them.
Have you had any cases that have really stuck out to you? If so, why?
My first case was siblings, four girls, they were so sweet! The case did not end in reunification with the parents but I was so happy to help see them through to their forever home with family! I loved getting to know them and help them get to know their forever family. I still talk to them today and hope to stay in touch with them throughout their lives.
What is the most gratifying/self-rewarding experience you've had as a volunteer?
Watching "my girls" go to their forever home. They were so happy and excited! They deserved this and I am happy to have been able to play a part.
How have the children you have worked with impacted your life?
These kids have so much love to give and deserve more. I believe I have received more than I gave at times.
More CASA volunteers, like Lisa, are needed to advocate for children who enter the child welfare system. Volunteers to help ensure these children have the best opportunities to thrive. Are you read? Volunteer today!