Thursday, Nov 4, 2021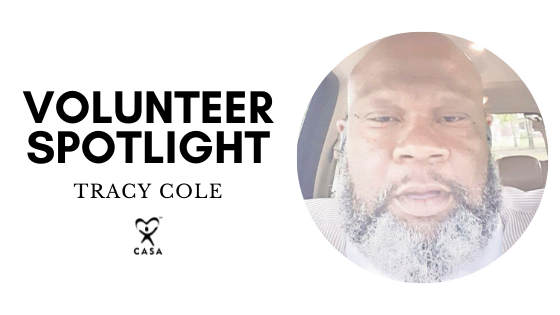 Tracy Cole is a lifelong Okie from Muskogee. He has devoted his whole adult life to helping people in need, so it was no surprise to anyone when he stepped into the role of a CASA advocate. Tracy has served as a CASA volunteer since December of 2019. Throughout his time at CASA, he has served on three cases, advocating for the best interests of 13 children. We had a chance to sit down with Tracy to ask him a few questions about his experiences as a CASA volunteer. Here is what he had to say:
Tell us about yourself.
My wife, Sharita, and I have four grown children and one beautiful grandson. I work for Muskogee County District 3 as a driver. I plan to run for Muskogee City Council this year as a representative for ward 4. I am the first vice-president of the Muskogee Chapter of the NAACP, and legal redress chairman. I also belong to countless organizations and serve on different boards throughout the city.
How did you first hear about and get involved with CASA?
I first heard about CASA through my fellow volunteer, Alexis Wallace. I reached out and got involved shortly after learning more about the organization and its mission to help children in need.
What is it like to be a CASA volunteer?
Being a CASA volunteer has its ups and downs. Living in a sheltered world, we don't always realize the craziness that goes on around us. The biggest part of being a volunteer is being a voice for the voiceless. These children need someone to step in and be that voice of calm during their storm.
What would you tell someone considering becoming a CASA volunteer?
It's worth it. Get involved and stand in that gap for someone that can't stand on their own.
What has surprised you the most about volunteering with CASA?
I think I am most surprised by the craziness that goes on right here in our own backyard. Things that never make the news. Most people would be surprised.
Have you had any cases that have really stuck out to you? If so, why?
Heavens yes. There was a case of a large group of siblings being removed from the home for deplorable conditions. Basically left to fend for themselves. It was discomforting to know that things like this could go unchecked for years in our community. I am thankful to have been able to help.
What is the most gratifying/self-rewarding experience you've had as a volunteer?
Being able to see the children find their way into safe, and loving environments and homes.
How have the children you worked with impacted your life?
They have given me an understanding of the world around us. They have taught me that bad things can happen to good people, but that we can still find hope.
Any advice for a new volunteer?
My advice would be to come through the door with an open mind. Be ready to work and always be prepared for the unexpected.