Monday, Jul 22, 2019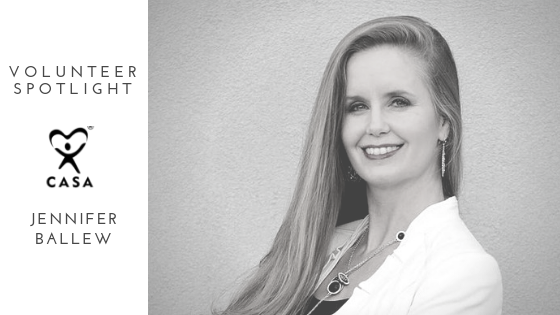 As a business consultant, Real Estate Agent, wife, and mother, Jennifer Ballew had plenty to keep her busy, but her heart longed for more. After hearing about CASA from a friend, Jennifer decided to take that next step and become an advocate for children and she could not be happier with her decision to help. We got a chance to ask Jennifer a few questions about herself and her experiences as a CASA volunteer. Here is what she had to say.
Tell us a little more about yourself.
I am recently married (we just celebrated our 2 month anniversary) and am a mother to 2 biological and 3 step-children. Our family is very active! We love spending time at the zoo, aquarium, and the Tulsa Air & Space Museum. I am active in the school's PTA and have served as the President for the last 2 years.

What is it like to be a CASA volunteer?
Amazing! I am honored to serve the families within my cases. I enjoy seeing my CASA kids and their families monthly. Spending time getting to know them, their background, and their current situations is very rewarding. I have always had a passion for helping children in need and being a CASA volunteer has allowed me to do just that.
What is the most gratifying/self-rewarding experience you've had as a volunteer?
Witnessing the adoption of one of my CASA babies! That day is etched in my mind forever. What a special moment for their family. It reminded me that love really can overcome anything and that there is always hope for a brighter future.
How have the children you have worked with impacted your life?
They have reminded me of how valuable life is. Watching these children continue to live after coming from some of the circumstances they have is inspiring. They remind me why I began working with children and why I must continue my journey.
What has surprised you the most about volunteering with CASA?
The relationships I have formed. The bonds I have formed with the families and caseworkers on my cases are something I will carry with me for the rest of my life.
What would you tell someone considering becoming a CASA volunteer?
Take that step of faith! It is worth it! I believe one of the main purposes in life is to serve others. Use the good and bad you have experienced throughout your life to make a difference in someone else's.
What advice do you have for a new volunteer?
Be open-minded. Don't judge anyone from the papers you read or based upon your past experiences. Everyone deserves to be heard. We are here for what is best for the child(ren).
Are you inspired by Jennifer's story? Would you like to learn more about how you (as a CASA volunteer) can be the change for a child in need? Email Jenny Crosby at jenny@casaok.org to learn more.